Meet Margot and Bella ~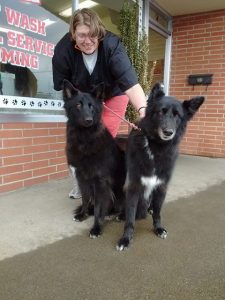 Margot and Bella are sisters who were surrendered to a California shelter after their owner could no longer care for them.  They are two very sweet girls who are completely bonded to each other and we are looking for a home that is willing to adopt both girls.  We believe the sisters are around 7 years of age. Bella has lost a portion of her tail and we have no information on the cause; but they are otherwise reported as healthy for their age.  Having no experience with these girls around cats and small children, we are recommending they be placed in a home that has neither.
Their foster has introduced them to their pack with no issues after the original meetings; however, the girls still sleep in a separate room from everyone else.  It is believed the sisters can do fine with other males or females in the house.  They had no worries about the sisters with their male dog. That relationship was fine from the beginning.  However, introductions needed to be managed between the sisters and the fosters 3 females more carefully.
Which is as one would expect.
After two weeks things have improved while the fosters' are present; but the girls are still not left alone in the pack unsupervised.  They are working on these introductions and feel things will be better before they go to their new home.  However, the new owner should keep in mind that this is a process that will need to be repeated if there are other dogs in the new home.
Awkward moments still exist between Bella and the fosters' dogs.  She will stare at the females and it is difficult to read her intentions.  She seems fascinated by the play between the other dogs and she will go up really close and stare while they are wrestling.  Her tail is usually wagging, but she just doesn't know how to engage with other dogs and both Margo and Bella are kept isolated in another part of the house when the fosters' are away.
There have been a couple of incidents of counter surfing.  Nothing big, but the new family should be aware that this is an area where it is best to keep things on the counter put away and free from temptation when the dogs are loose in the house.  Counter-surfing, while undesirable is not an uncommon trait.
Crate training has been postponed as the fosters' felt integrating the sisters into their pack was the number one priority but it is something that will be addressed before they leave for their new home.   On a positive note, the fosters' dogs are really reactive to strange dogs and walkers going by the road in front of their house.  Lots of barking!  Margot and Bella don't engage in the uproar at all, which is a good thing!
They do have some separation anxiety when loaded into individual crates in the car for travel.  Lots of crying from both girls is reported when they drive off to the park or any place in the van.  The foster has been placing chews or puzzle toys in their crates while they are traveling and that has seemed to help a lot!
The girls have been given time to run in the fosters' yard in a quiet natural area that is enclosed by a fence and natural barriers.    The exercise has been two-fold.  One the girls appear to have had very little freedom to enjoy outdoor exercise, and two, both could stand to drop a few pounds.
Overall, we are told these are really wonderful girls that will do well with a competent, experienced owner.
If you have a place in your heart and home for two inseparable girls…please complete an adoption application on our website to be considered.
Please check back for more information on adoptable Belgian Sheepdogs in this region.