The latest news of BSDRT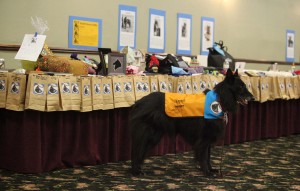 2013 – A Big Thank You from Belgian Sheepdog Rescue Trust
BSDRT concluded one of its most successful Raffles & Silent Auctions at the 2013 BSCA Specialty held in Wisconsin.  We had an incredible amount of donations that filled five tables.  The tables almost completely spanned the width of the ballroom.    I am constantly amazed by the generosity of the BSCA membership and supporters of BSDRT both for their wonderful donations and by their ticket purchases/silent auction bids.    A heartfelt thanks to all of you for your continued support!
I'd also like to thank BSCA Specialty Co-chairs Bonnie Leonard and Susan Spinhirne for making sure that we had a great location in the ballroom and for their quick response when I had to request more tables due to the volume of donations.   It was a pleasure working with both of them.
This year I was very lucky to have volunteers Julie Simon, Pam Clark and Cheryl Robotka helping me with set-up and ticket sales at the booth.    I simply couldn't have done it without them this year.  What a great team they were!
 As an added bonus we had two past BSDRT rescue dogs at our booth for a meet and greet.  Volunteer Pam Clark brought her sweet boy, Pirate, who she adopted in 2010 and Sheryl Zeidman brought her boy, Rocky, who she adopted in 2012.   Both Pirate and Rocky made for wonderful BSDRT ambassadors. 
See you all next year in Oklahoma.
Sincerely,
Sharon Roundy
Chairperson
BSDRT
The following is a collection of BSDRT related articles that appeared previously in the Belgian Sheepdog Club of America Newsletter.
2013 Raffle & Silent Auction: The Rescue Rangers!
Former Rescue Earns Titles: Pirate
 2012 BSDRT Raffle and Silent Auction
BSDRT Updates July/August 2011
Thelma and Louise Update | More from Nov/Dec 2009
Tov's Story | Tov's Story, Continued
Rescue Mature Dogs Mar/April 2009