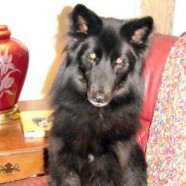 Name: Pretty Girl/PG
Dog Information and Overview: PG was Heartworm positive when she was rescued. She came through treatment with flying colors with the help of her devoted foster family. Eventually PG was matched with a great home far from her southern roots. Her family provided this snapshot of PG's life now.
A day in the Life of PG (2013)
It's hard to believe that almost a year has passed since Miss PG (now her official Maine name) moved north from Tennessee. Each morning, the radio alarm sounds. That cues Miss PG to belly flop onto our bed for her morning tummy rub from Dave (aka Dad). Once we are all up, Miss PG stretches out on her personal futon, usually upside down; for an early morning nap. PG is not a morning dog! After Dad leaves for work, we are off for our morning walk at the local college where she meets and greets faculty, employees and students. Many of the students miss their own dogs and love to give Miss PG a big hug which she absolutely adores!
We take a couple of walks a day and play out in the yard. PG loves the snow and burrows her face right in! She loves snow shoeing and bounds through the snow like a reindeer! When Dad comes home, she loves to chase her luring weasel. After the two of them run around the yard, it's time for dinner. When PG has a full tummy, she announces so to the world with a full bellied howl! After dinner dishes are cleared, she jumps up on the couch for snuggle time, usually in my lap, but some evenings she is daddy's girl. We always have a cup of tea before bedtime, and PG has her treat filled bone. She has learned how to count to 4 and knows dad will fill it 4 times for her (one for each paw…we promise we keep it very skinny). PG now has the run of the house at night and usually sleeps on her futon until the radio alarm clock sounds to start the day again. PG's grandmother (Dave's 80 year old mother) knitted her 2 stockings for Christmas. We put the live Christmas tree beside PG's futon and she fell asleep with her head next to the tree each evening. She has quite a following of friends who gave her Christmas presents.
Once she meets someone, she remembers and greets her friend with bounding enthusiasm. She has become quite a people oriented pup and loves to host company at our house. PG still howls when the fire truck alarms sound (not rescue or police, only for the fire trucks). We walk near the fire station, so it is almost a daily occurrence. We will never know why but it is a low, soulful howl. We take comfort in knowing she trust us to keep her safe and looks to us for guidance when she is unsure of anything. We feel truly blessed to have PG in our family!