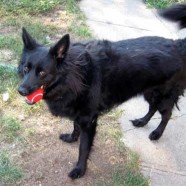 Dog Name: Sophie (Onyx)
Dog Information and Overview:
We got word that there was a Belgian sheepdog named Onyx being offer for free on Craig's List in Spokane, WA. The owner loved Onyx, but had to move and was unable to have a dog at her new home. BSCA Rescue quickly put out an announcement for foster care or a permanent home. Lisa Lucas (www.northerntailsdogtraining.com) came to the rescue and placed her in a program in which women in federal prison socialize and train dogs to make them more adoptable. Her trainers put her on a diet, renamed her Sophie, and she was the star of the cell block this fall. Sophie graduated from the program with honors and was quickly adopted by a couple in Spokane.