What is Rescue?
The Belgian Sheepdog Rescue Trust is an independent organization established by the Belgian Sheepdog Club of America to focus soley on rescue operations. It is a nationwide group of Belgian Sheepdog friends, breeders, owners, and competitors who volunteer their time and efforts to provide veterinary care, evaluation, fostering, and finding adoptive homes for Belgian Sheepdogs who have found themselves abandoned, unwanted or lost.
Where do Rescues come from?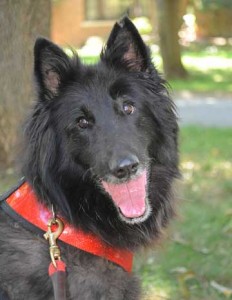 Some come from shelters who call rescue volunteers when they suspect they have a Belgian Sheepdog needing a home. Some are surrendered by their owners for a variety of reasons. Some are strays and we'll just never know their story. Many shelters call the rescue volunteer in their area because releasing dogs to rescue frees up space in the shelter without putting an animal down. Belgian Sheepdogs don't thrive in confinement and we are very grateful to those animal control workers who help the Belgian Sheepdog by calling Rescue.
What if it doesn't work out?
The purpose of the foster home is to provide a place for us to evaluate each dog and learn as much as possible about him/her. This will help us decide exactly what type of situation will be best for him and match him to the right adoptive family. Volunteers put a great deal of effort into matching adopters with the right dog and finding the right home for each dog. The adoption application will give us some information about you, and the volunteer who works with you will ask more questions. This information will help us find the Belgian Sheepdog who will fit into your family. After an adoption, Rescue will always be available to answer questions and offer any support the new family might need. If, for any reason, the new family finds that they can no longer take care of their dog, Rescue will take the dog back.
What is the cost to adopt?
Adopters are asked to make a donation to Rescue which will generally cover the expenses incurred while the dog was in rescue (usually just routine veterinary care). The donation is $300 for an average adoption. Donations for special needs adoptions and dogs over 5 years of age will be decided on a case by case basis. For more specific information, contact the Regional Coordinator who is handling the dog in which you are interested.
How long is the adoption process?
Faster is not always better, especially when re-homing dogs. Rescue has an excellent track record for placing Belgian Sheepdogs in "forever homes". One of the most important reasons for the high success rate is the thoroughness of the screening and matching process. But because it is thorough, it takes time. How long a potential adopter can expect to wait while being screened and approved for a particular dog varies. The whole process might only take a week or two, but more typically an applicant waits a month or more for the right dog to come along. While you are waiting, make sure you have "done your research" by visiting bookstore links to get some books about the Belgian Sheepdog, training, dogs in general, and canine health issues.
Are there requirements for adoption?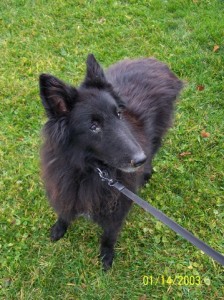 Prospective adopters must submit a completed application (Online Adoption Application Form) after which an interviewer will call to discuss your plans and clarify what you expect from a Belgian Sheepdog joining your family. All references will be contacted. You'll also be contacted for a followup interview by a Regional Coordinator, who will schedule an in-person home check and answer any questions you have about the adoption process. General requirements include a securely fenced yard or kennel run no less than 10′ x 10′ in size; the recommended height of the fence is 6′. If a potential adopter does not have a fenced yard there must be a demonstrated history of adequate supervision and exercise for a dog. It isn't necessary to have previously owned a Belgian Sheepdog but it's important that an adopter have a basic knowledge of this herding breed. Our dogs are intended to live indoors as members of the family. A signed contract is required prior to a dog leaving for his or her new home. All dogs are microchipped when they enter our program; BSDRT continues as the default primary contact with the microchip registry for the life of the dog, with your contact information added upon adoption. Additional specific requirements may apply based on the individual needs of each dog.
How are Rescues transported to new homes?
Adopters are responsible for the actual transportation of their new dogs, with several options available. Some new owners prefer to schedule their vacations at a time they can drive to the dog's foster home and bring it home themselves. Others prefer to have the dog flown to them. Another flight option is that of flying to the city where the dog is being fostered and return home together on the same flight. When your adoption has been confirmed, these and other transportation arrangements will be reviewed with you.
Will bonding be a problem?
The Belgian Sheepdog's family is very important to him. While they are very attached and loyal to their owners, most also have no problem adjusting to new situations and bonding with new people.
Can I get a puppy?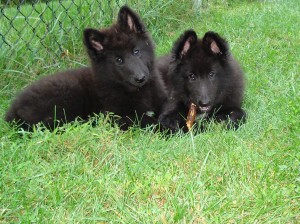 Puppies don't often come into Rescue. The most common dogs are 2-6 years old. Remember that there are pros and cons to getting a puppy. Most often, we are told that people want a puppy so they can bond with their dog more easily. Bonding with a new family isn't a problem for Belgian Sheepdogs of any age. They all adore "their" people! Consider the advantages of adopting an older dog — while no one can deny that all puppies are cute, who wouldn't mind missing out on the chewing and housebreaking stages? In addition, the activity level and personality of an older dog is much easier to ascertain, so you can be confident you've found just the right dog for your household and lifestyle.
Do Rescues have a lot of problems?
Some dogs are surrendered to Rescue because of problems with the people who owned them. Some have been neglected and many need training, but Belgian Sheepdogs who go through Rescue spend time in foster care before we place them. They are evaluated and assessed so we know what their needs are. If a dog has special problems, the foster home will let you know what they are. Volunteers are committed to placing healthy dogs with good temperaments. Many of these dogs are untrained, but most of the time they respond very well if given a loving home and an atmosphere where they are shown that their people love to be with them when they act properly.
Are Rescues healthy?
All dogs who go through Rescue are first seen by a veterinarian. They are spayed/neutered. Their shots are brought up to date and they are heartworm tested. Although we sometimes get dogs who have severe health problems, most medical conditions can be treated so that the dog will be healthy and ready for placement.
Why would someone surrender their dog?
Some Belgian Sheepdogs are surrendered because of a family allergy, illness, death, divorce or a move to a place where no dogs are allowed. While the rescue volunteer taking in the dog makes every effort to find out exactly what the reasons are, we don't always know the whole story when we get a new dog. For this reason, rescued Belgian Sheepdogs stay in a foster home for a period of time to be assessed before placement. One of the most common reasons for giving up a dog seems to be that a puppy was purchased by someone who didn't know anything about the breed and was unprepared for the dog it would become. Belgian Sheepdogs are exceptionally smart and very capable of amusing themselves. If they're left alone for long periods of time and/or neglected, they can exhibit undesirable behaviors in order to get your attention. Belgian Sheepdogs make excellent family pets and companions, but they are not for everyone. Puppies of all breeds are cute, but they don't stay puppies very long. If you've never owned a Belgian Sheepdog before, be sure to read About The Belgian Sheepdog, talk to owners and fanciers, and meet some dogs before making the decision to add one to your family.
Why do volunteers do Rescue?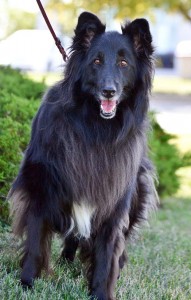 Our volunteers are all fans of the breed. Many of us are breeders and/or we compete with our Belgians in conformation shows, obedience, agility, herding, tracking, or other endeavors. We all own at least one Belgian Sheepdog ourselves. We feel compelled to help the members of our breed that cannot help themselves. We don't want to see any Belgian Sheepdog needlessly destroyed when they can become happy family companions.